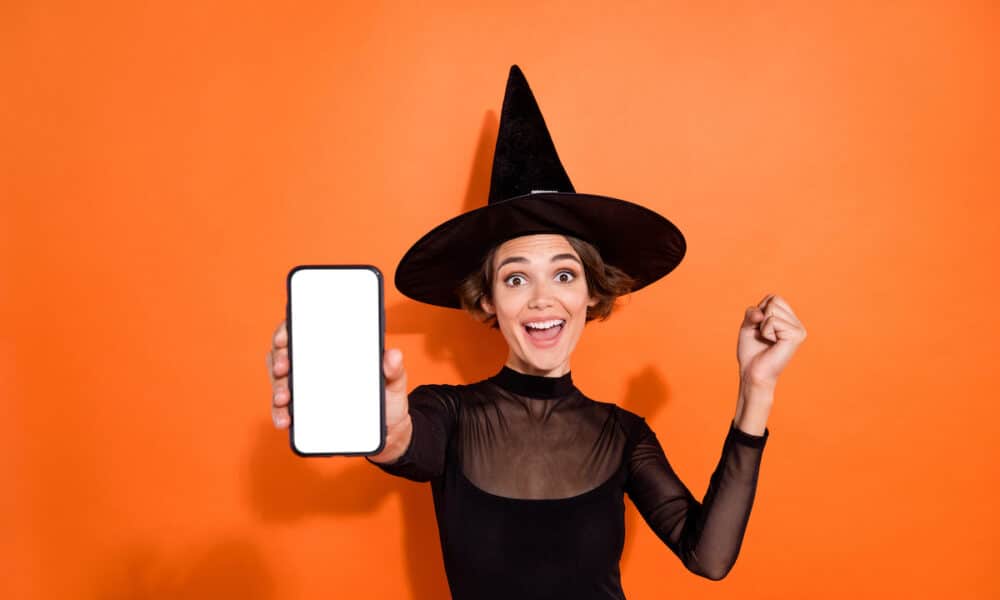 Halloween is here and you might find yourself with the frightening reality of an empty social media calendar. Eek! Small business owners might feel the eerie pressure of falling behind in their festive social media engagement. But fear not–there are still plenty of innovative, engaging, and downright ghoulish Halloween social media ideas to captivate your customer.
Even though the clock is ticking, these Halloween social media ideas will help you conjure up a spellbinding presence that brews up business!
1. Showcase Some Spine-Chilling Video Content:
Nothing engages an audience quite like dynamic video content. For Halloween, small businesses can tap into this magic by crafting short, themed videos that either entertain, educate, or inspire.
If the thought of video creation haunts you, the good news is that it doesn't need to be complicated. Think along the lines of "behind-the-screams" footage showcasing how your team gets into the Halloween spirit or a spooky product demo that highlights special holiday promotions.
Meanwhile, live videos on platforms like Instagram or Facebook are also fantastic avenues to engage in real-time with your audience. Have some fun with a ghost story session or a live costume contest where viewers vote on their favorite outfits.
You can also hire Hooked Marketing for some spooky fun video content!
2. Capture the Creepy in Photos
A picture is worth a thousand screams—especially on Halloween! Small businesses can leverage the power of photography to create hauntingly engaging social media posts.
Stage a mini-photoshoot featuring your services in classic Halloween settings, like a pumpkin patch or a notoriously haunted location near you. Share snapshots of your team members in costumes, or create a mysterious, puzzle-like series of posts where followers piece together clues hidden within each photo. From here, you can lead your customers to a grand reveal or special discount on Halloween day.
3. Spooky Interactive Stories and Polls
When it comes to last minute halloween social media ideas, this is a fun one! Interactive content is a key player in driving engagement, and platforms like Instagram and Facebook offer features perfect for this. Use Facebook and Instagram stories to create Halloween-themed polls ("Which is spookier: ghosts or zombies?") or quizzes ("Name that monster!"). These quick, fun interactions are not only engaging but also incredibly shareable, encouraging users to spread your content far and wide.
4. Creepy Collaborations with Other Small Businesses
Collaboration is a powerful tool, especially for small businesses. This Halloween, why not team up with other local entrepreneurs to cross-promote your goods and services? Share each other's Halloween-themed products or create bundle promotions. A joint live stream or shared social media event, like a virtual scavenger hunt, can also increase engagement and reach a wider audience.
5. User-Generated Boos and Bewitches
Did you know that user-generated content in a campaign results in 29% higher conversion rates? Encouraging user-generated content is a fantastic way to engage your community and populate your social channels with authentic content. Launch a Halloween-themed hashtag and invite your audience to share their spooky snaps and creepy crafts.
Whether it's showcasing their home decorations, creepy culinary creations, or innovative costumes, user-generated content not only boosts engagement. It even builds a community around your brand! Feature top entries on your profile, and offer special promotions or discounts as a treat for participation! The possibilities are endless.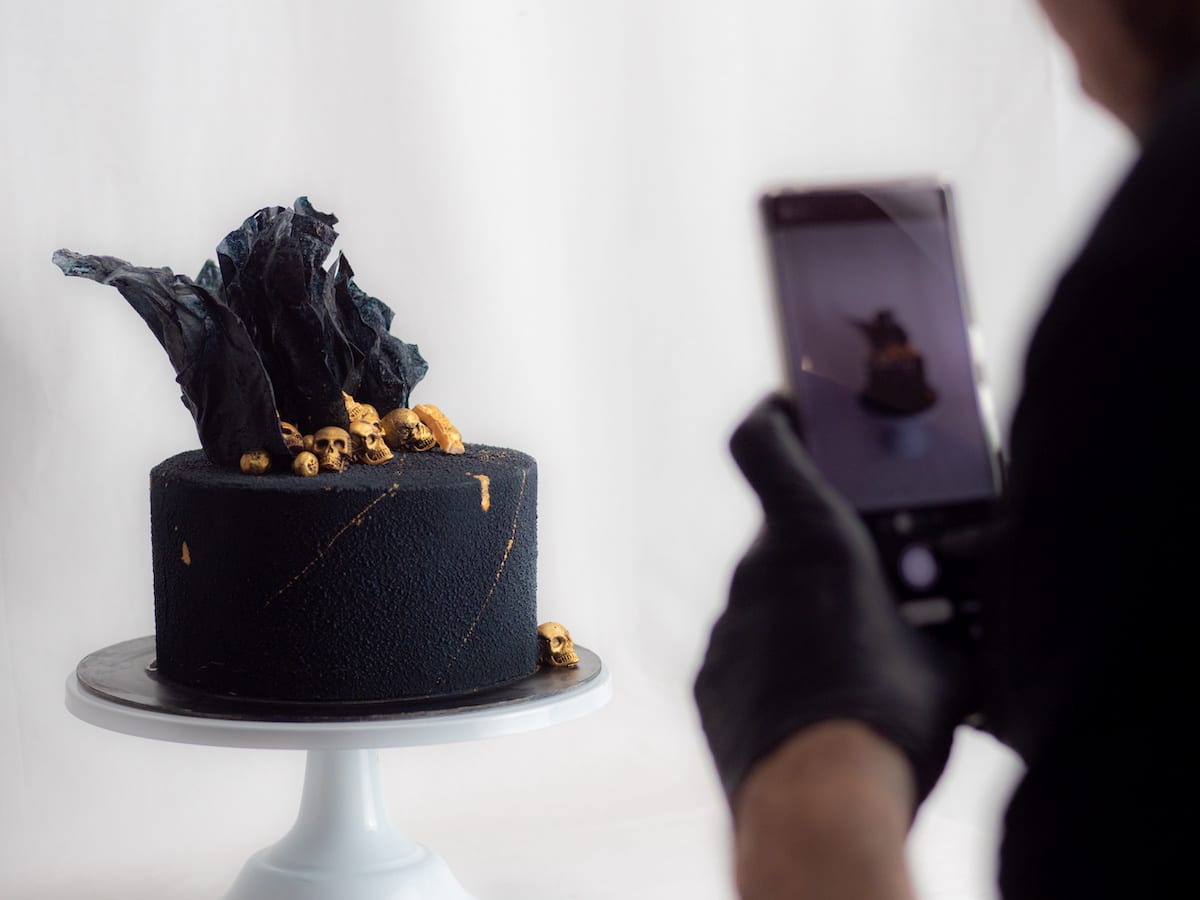 Other Halloween Marketing Ideas for Small Business
It's true that these Halloween social media ideas for small businesses will hook more customers. But what else can you do to make the season more special for your marketing?
6. Eerie Email Campaigns That Enchant
While social media is a powerhouse for engagement, never underestimate the power of a hauntingly crafted email campaign. Segment your audience and send them personalized, Halloween-themed messages. You can also share an exclusive sneak-peek at upcoming Halloween specials, or send an interactive mystery story where clicking through unravels the plot and leads to a secret promotion or new product unveiling. Integrating your Halloween social media ideas with email marketing can provide a cohesive, cross-platform user experience.
7. PPC Ads with Haunting Ad Copy
Get into the Halloween spirit with ad copy that's both spooky and compelling. Use language that evokes the holiday's eerie ambiance while clearly conveying your offer. Phrases like "Frighteningly good deals," "Spooktacular savings," or "Creepy, kooky, and so much fun" can catch the user's eye and set the mood.
Make sure your call-to-action (CTA) is strong and gives a sense of urgency, like "Shop now if you dare!" or "Unearth these deals before they vanish!"
8. Landing Pages That Lure
Your ad should direct clicks to a Halloween-themed landing page that reflects the same offers, language, and imagery as the PPC ad. This continuity reassures visitors they're in the right place and keeps them immersed in the Halloween experience. Make sure the landing page is mobile-friendly, loads quickly, and contains a clear CTA.
9. Blogs with Halloween Themes
Hey, did you know that blogs and social media go hand-in-hand? You can whip up a fun Halloween blog post and share it on social, which brings more traffic to your website. Halloween-themed blogs are not just an opportunity to engage with your audience, but also a chance to improve SEO and showcase your brand's creativity.
Try some of these ideas for great Halloween blog content.
10. "How-To" Guides for Halloween
People love diving into DIY projects, especially during festive seasons. Cater to this with blogs that guide readers through creating their own Halloween magic. From crafting homemade decorations to concocting terrifyingly tasty treats, or even creating the perfect Halloween makeup look, how-to guides are immensely popular.
Try to make the how-to topic relate to your products and services if possible.
11. Spooky Success Stories
Narratives have a unique way of resonating with people, and the Halloween season is rife with opportunities for storytelling. Share real stories about previous Halloween successes within your company.
You can also highlight a particularly successful Halloween marketing campaign, event, or product launch from the past, and detail how your team made it happen. Not only does this provide valuable insights, but it humanizes your brand and makes it more relatable.
12. Service Spotlights with a Halloween Twist
If your business offers services that are or can be Halloween-themed, a service spotlight blog can work wonders. Highlight the uses and benefits of your products within the context of Halloween.
For example, a carpet cleaning company can compare dirty, creaky wood floors to haunted house flooring. With the wood floor cleaning service, the customer's home is transformed into a clean (and less scary!) place to live.
13. Halloween History and Fun Facts
Continue the holiday fun by diving into the history of Halloween and its traditions. You could explore the origins of Halloween customs, like carving pumpkins or donning costumes, and how these traditions have evolved over time. Injecting fun facts and lesser-known tidbits can make your content more shareable. It also adds value for customers who want to impress their friends with their Halloween knowledge.
14. Curated Lists of Halloween Ideas
Curated content is a crowd-pleaser. Compile lists related to Halloween themes with your business — like "Top 10 DIY Dog Halloween Costume Ideas" or "5 Spooky Sounds Your HVAC Might be Making" Ensure these lists are relevant to your brand and products, but don't be afraid to think outside the box. If your business isn't directly related to typical Halloween products or services, find creative angles that tie in with the season.
audience base.
15. Safety Tips for Halloween
With all the excitement around Halloween, safety is a concern that often rides shotgun. Blogs offering advice on how to stay safe while enjoying the festivities are both valuable and shareable. From trick-or-treating safety tips for parents to advice on fire-safe decorations, providing this kind of practical information positions your brand as caring and customer-focused.
Get More Halloween Social Media Ideas from Hooked Marketing
Here at Hooked, we know how to hook more customers with engaging marketing ideas. Whether you are looking for last minute Halloween social media ideas or an entire content marketing strategy, we're here to help. Contact us now to start hooking great ideas!