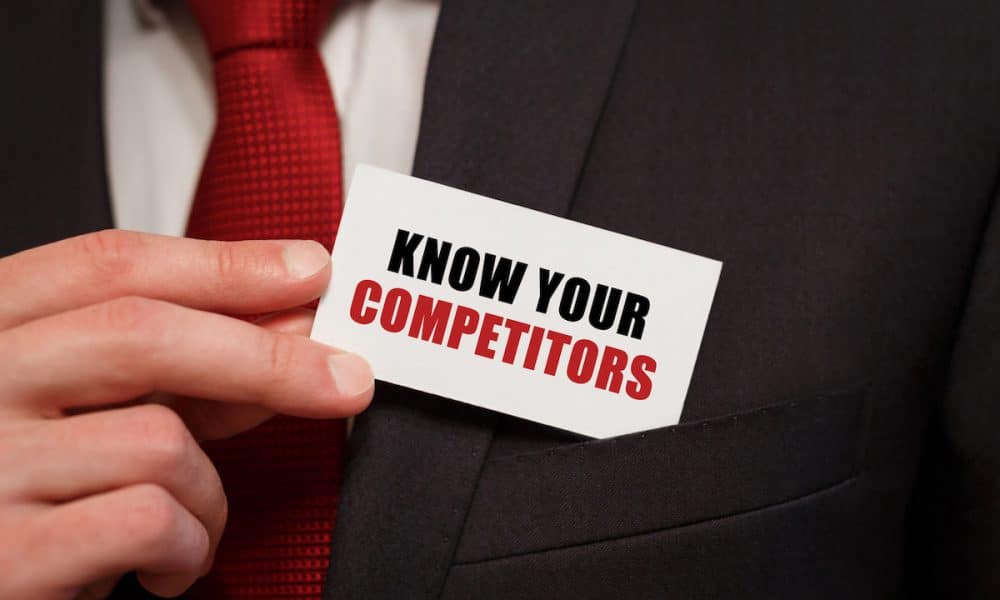 Identifying your competitors and evaluating their strategies to determine their strengths and weaknesses relative to those of your product or service is crucial to a successful SEO campaign.
A competitive analysis is a critical part of your company's digital marketing plan. With this evaluation, you can establish what makes your product or service unique and therefore what attributes you should play up to attract your target market.
How to Analyze the Competition
Evaluate your competitors by placing them in strategic groups according to how directly they compete for a share of the customer's dollar.
Answer questions such as: Who are your competitors? What products or services do they sell? What is each competitor's market share? What are their past strategies? What are their current strategies? What type of media is used to market their products or services? How many hours per week do they purchase to advertise through the media used in this market? What are each competitor's strengths and weaknesses? What potential threats do your competitors pose? What potential opportunities do they make available for you?
Creating a Competition Grid
A quick and easy way to compare your product or service with similar ones on the market is to make a competition grid.
To help you generate this list, think of what your customers would buy if they didn't buy your product or service. Across the top of the paper, list the main features and characteristics of each product or service. Include such things as target market, price, size, method of distribution, and extent of customer service for a product.
If you have access to third-party analysis tools (or an SEO expert worth their salt) you can do a deeper dive into the analytics of your competition and the spend you'll need to match to beat them in the marketplace.
Using Third-Party Data Effectively
What tools or services are your competitors using to improve themselves?
Which tools are gathering data? Google Analytics, Facebook Pixel, or something else? Take note of them for now. This is only the tip of the iceberg. Relevant traffic is important for long-term growth and survival. This is why you've spent considerable time creating a list of high value, high-intent keywords to go after.
Are they targeting the same keywords that you have your eye on? Or are they going after something else? More importantly, are they ranking for their target keywords? If so, how much of that is due to paid ads vs. organic ranking factors? To find the answers to such questions we get to use tools… and more tools! There are tons of SEO tools that help you track your website performance and the performance of your competition as well.
Why Competition Analysis Matters
Product categories have gotten more crowded. A lot of their features and functionality have started to overlap. The subscription economy has made it easier to switch to competing products. The marketplace has turned into a competitive high-stakes, "winner-takes-all" environment.
New product categories are popping up every day and the lines between traditional categories and labels are starting to matter less and less to customers who just have a problem to solve and need that solution as quickly as possible.
Competitive analysis is one of the most important tools in your toolbelt to hone in on your target market and the problems your clients are trying to solve.
How You Can Stand Out Among The Competition
Since competition can come from anywhere, you need to catalog your strengths and weaknesses relative to both direct and indirect category leaders (i.e., those adjacent to your core business). An effective GTM strategy requires a deep understanding of your ideal customer, market and competition, product offering and pricing, and channels necessary to reach your customers.
Analyzing your market and competition also helps you determine how your company and your product fits in the current environment. You'll never be able to fully understand or duplicate a competitor's strategy. A competitive analysis is just one input in your growth strategy – and a limited one at that.
Why You Need a Professional Digital Marketing Team On Your Side
Because the initial competition analysis is only the beginning you need a professional in the industry to take it a step further. An SEO expert understands how to interpret the data and formulate a strategy to provide stronger footing in the landscape.
Don't know where to start? You're in luck! Here at Hooked Marketing, we know how to leverage your strengths against your competition to win leads and dominate your niche.