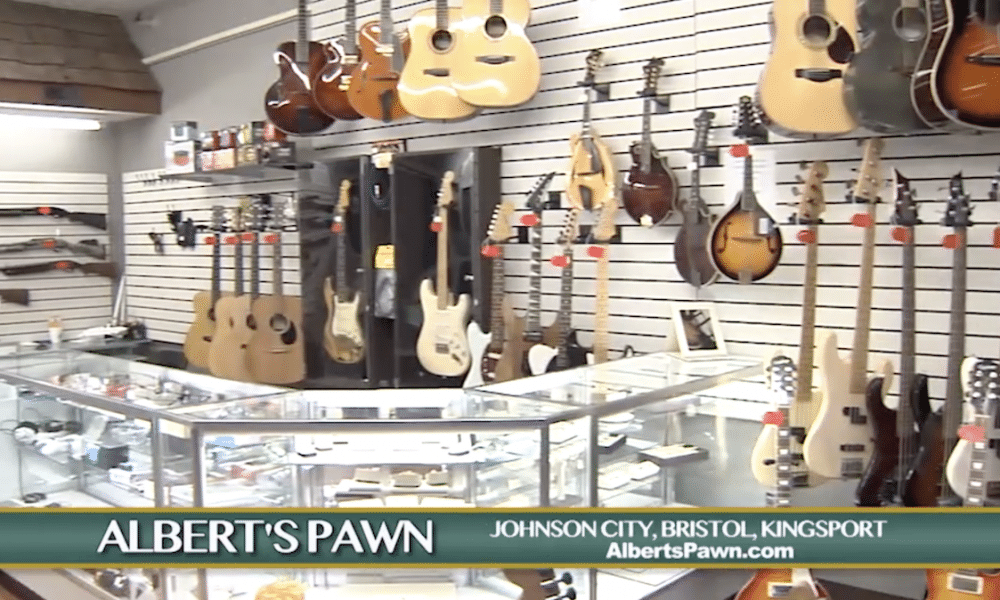 Meet our client Albert's Pawn, a family-owned business that has been in operation through four generations with four locations in the Tri-Cities of Tennessee. The Albert's have a rich history in East Tennesse.
History – Four Generations
Albert's Pawn is named after Albert Rothbart who started Albert's Loan Office in Johnson City in 1927, and he operated it for close to 50 years until he passed away. Albert's daughter, Harriet Rothbart Luster, was the next owner along with her husband, Rufus Luster. Together they operated the business over the next twenty+ years. Enter the third generation, Marcus Nachman, who is Albert's eldest grandson, who bought Albert's Pawn and is currently managing the business. The fourth generation of management is Marcus and Patty-Jo Nachman's son, Zach Nachman. Zach is the Operations Manager.
Four Locations
Albert's Pawn currently has four locations:
Products
Go into any one of their four locations to find a hidden treasure. Here are some of the things that you will find at Albert's Pawn:
Gold jewelry
Guitars and other musical instruments and equipment
Firearms, including rifles, shotguns, and pistols
Laptop computers
Flat-screen TVs
The latest video games and systems
Power Tools in good, clean condition
Chainsaws
Lawnmowers and weed eaters
Bicycles
Blueray and DVD movies
USA made knives
Pawn Loans
If you are interested in getting cash for an item that you own, Albert's Pawn specialize in small short-term loans called pawn loans. A pawn is another term for a collateral loan. Pawnbrokers lend money on items of value (collateral) ranging from gold and diamond jewelry, musical instruments, televisions, electronics, tools, household items, firearms, and more. Loans are based on the value of the item you bring in. Here is a blog on the best items to pawn.
Online Sales
They have products for sales online for your convenience:
Fully Licensed and Insured
You want a fully licensed pawnshop which follows the rules and regulations based on Tennessee current banking laws. Albert's Pawn is fully licensed and insured to protect your items from any catastrophe. Watch out for the stores that call themselves "pawnshops."
Competitive Prices
They offer competitive prices and provide customer friendly service from knowledgeable staff. They provide helpful information and knowledge to educate their customers and address all individual needs and requirements.
Experienced Staff
In an era of change and turnovers in jobs, Albert's is unique. They have staff members who have been with Albert's for over 35 years. Almost every one of their employees has been on the job for over ten years. This translates into experienced and knowledgeable employees who can assist you in getting the best pawn loans for your items and help you choose that quality item for purchase. All of the staff have passed background checks and are trained in firearms processing.
Hooked Marketing Support
At Hooked Marketing, we are excited to have Albert's Pawn join our team of clients. Even though they are located in Tennessee, and we are in Florida, we can work with them efficiently via technology.
We have assisted this client with:
Website upgrade
Webstore to sell their products
Social media presence to brand and promote their merchandise
Google My Business for four locations
SEO
Check out their new website, online sales, Facebook, and Instagram accounts. If you are in the Tri-Cities area, drop into one of their four locations?
Contact Hooked Marketing to help you get more clients and visibility for your business. If you haven't entered into the website blog arena, or you do not have time to write and post consistently to get good results, give us a call at 727-333-5270 to discuss how we can help you.
Hooked Marketing is based in beautiful Florida just north of Clearwater & Tampa Bay in Palm Harbor. Specializing in marketing, more specifically Organic SEO, AdWords Management, and Website Design. When hiring a local marketing team, you look for experience. Hooked Marketing has experience acquired from hundreds of web designs and marketing campaigns managed over the past 14+ years. Need help setting up a website for your business? Contact us today to get started.