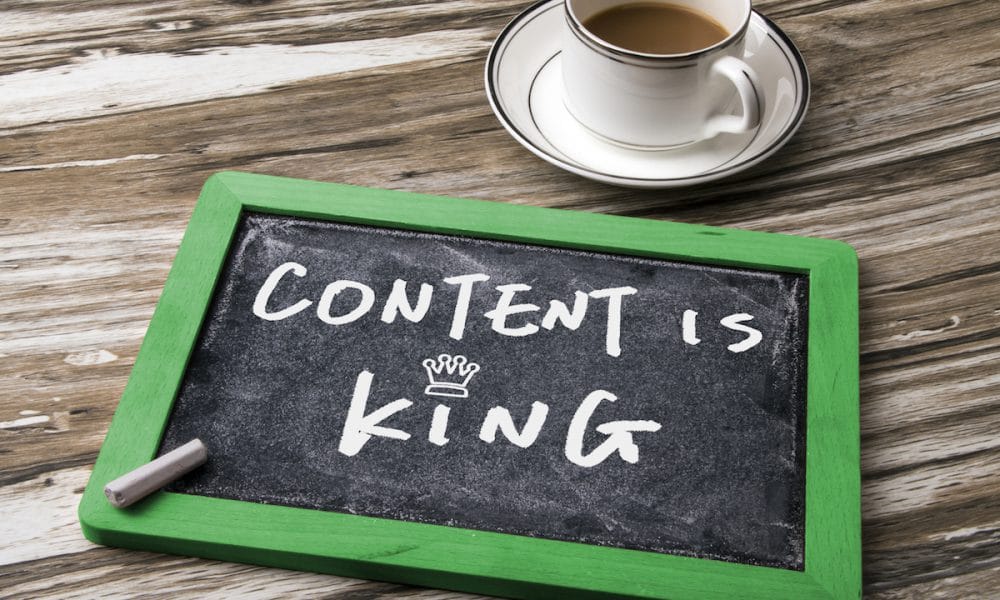 Ever hear the phrase "content is king"? Well, in the website and SEO world, it's true for many reasons. Websites are not meant to be stagnant like a printed brochure that doesn't change for years. Search engines and people are constantly scanning websites for information, products, services, etc.
On a website, change is a good thing! If you consistently generate relevant content, smart search engines will recognize you as a valuable resource to display in a search result.
Here are some reasons to keep your website content fresh:
Provide Information
Your clients want information about your products, services, and company. A website provides information, to sell something or to offer a service. You should always optimize your website in such a way that search engines know what your business is about and why clients should buy your products or services. That way, search engines will know when to show your website and its pages in the search results for relevant search queries.
Improve your Search Engine Rankings "SEO"
Content provides information which is used to educate search engines about your website. You should always keep in mind how your website is portrayed to search engines and whether it accurately communicates your website's purpose.
Search engines index the pages on your site continuously and like to see internal links throughout a website. Therefore, internal links may help the pages on your website to be indexed and understood by search engines faster.
Content is one of the main ways to educate search engines about your website. But content isn't just for the search engines; it's also for the people visiting your site.
Keywords
Content should always reflect your keyword strategy. Keywords are the words or terms that your client will type into a search engine to find a service or product. Your keywords best describe your products and/or services. The keywords should be unique to each page on your website. Content uses keywords in a natural, relevant way to help search engines make the connection between your website and the keywords that you want to rank. For example, I Got Your Back Massage Therapy's keywords would be:
Massage because that is what their customers type in a search engine to find a massage therapist near them
Reiki because that is one of their services they offer
Palm Harbor because they are located in Palm Harbor
What are your keywords of how your customers find you on the internet? Make sure you use them in your content.
Internal Links
Content uses internal links to promote a product or service on your website. An internal link is text within the content that is hyperlinked to another relevant page on your website. Internal linking is an excellent method of leading users to additional information that they may be searching.
Bring Quality Visitors
While writing the content copy on a website, it is vital to keep in mind the SEO value. But, it is equally important to write to the humans that will be reading the information, so it is engaging, easily digestible, and informative.
Increase User Experience
Refreshing your content will keep a customer coming back and increase the user experience for them. If a customer has a good user experience, they'll stay on the site longer and will purchase from you.
Convert Users into Customers or Fans
When a consumer lands on your website, they are looking for a product, service, or information. Content is a way of providing that information with clear details regarding the products and services. This content will keep users on your site and increase conversions.
24/7 Sales Staff
Your website is actually an outside sales staff that works 24/7 for you. People use the website when they want to, and people are on the internet all hours of the day. That is why eCommerce is so popular, just like online banking. Consumers do not have to speak to a live person to make a transaction. Make sure your site can be used without another person on the other end.

Brand Personality
Your website is the perfect opportunity to reinforce your brand with content, photographs, logo, product pictures and descriptions, employees, office building, client photos or recommendations, etc. Showcase your special sauce so you'll attract the perfect buyer.
Add Statistics
Statistics prove a point. They support a decision. They sway a person's opinion in a debate. Statistics can even make a person purchase a product from your website. Just look at the review sites, and if you see a large percentage of five-star reviews, it will sway your decision to purchase from that company.
Check out Hooked Marketing's statistics on the home page:
60% of all organic clicks go to the organic top 3 search results
92% of consumers read online reviews for local businesses
Companies that blog generate 67% more leads per month
Calls to Action
A call to action to your audience is an excellent content tool which will invite a user to complete an action. Examples of calls to action are: request a quote, contact us, add to cart, leave a review and download a PDF, go to a landing page, or whatever it is you might want users to do on your website. You can increase your conversions by adding calls to action throughout your site.
Update How Often?
The best answer to the question "how often should I update or change my content" is whenever the information is outdated. Worst case, make sure that you update your content at least once a year. When you update your content, change anything outdated, review your blogs, and update any of them with current information.
Give Jeff Smith of Hooked Marketing today at 727-333-5270 to discuss updating your Website content, and help you with getting better results with your SEO and marketing.
Contact Hooked Marketing to help you get more clients and visibility for your business. If you haven't entered into the website blog arena, or you do not have time to write and post consistently to get good results, give us a call at 727-333-5270 to discuss how we can help you.
Hooked Marketing is based in beautiful Florida just north of Clearwater & Tampa Bay in Palm Harbor. We specialize in marketing, more specifically Organic SEO, AdWords Management, and Website Design. When hiring a local marketing team, you look for experience. Hooked Marketing has experience acquired from hundreds of web designs and marketing campaigns managed over the past 14+ years. Need help setting up a website for your business? Contact us today to get started.