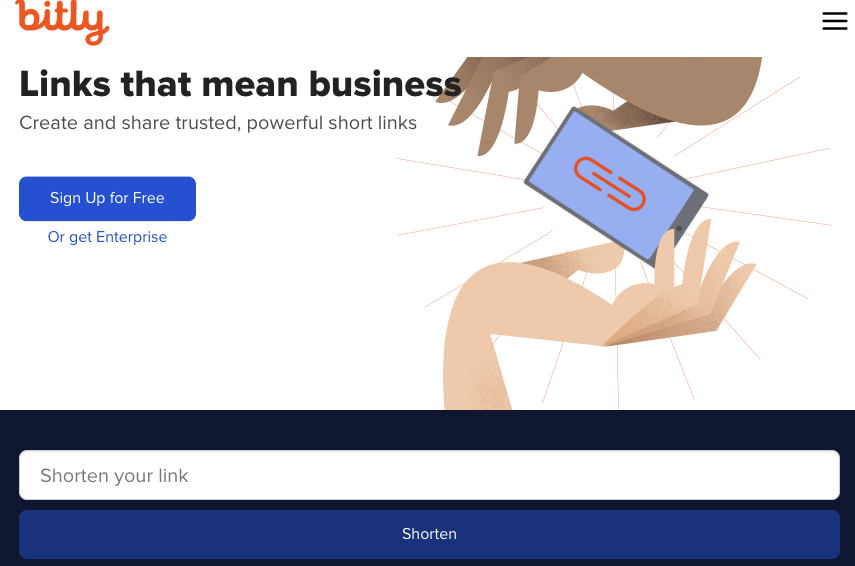 If you haven't heard of Bitly, we will help you understand what it is and how it can help you. Some website links or URLs (uniform resource locator) are very long and take a long time to time into a website browser.
Because of the long URLs, there are now URL shorteners that help you minimize the number of characters in a link which keeps your online friends and followers happy.
What is Bitly?
Bitly and TinyURL are both services referred to as "link shorteners," which means they take long URLs and shrink them into much smaller ones. Then, when you enter them into your web browser, the URL gets converted back to their full length. Both take you to the same location on the website.
Bitly is the most used URL shortening device. With Bitly, you can:
track how many clicks your shortened links receive,
link bookmark
organize your links on your own personalized Bitly dashboard
Analytics on your clicks
Key Features
The key features used by Bitly are:
Branded Links
Attract more clicks on your links by showing your customers they're being sent from a trusted source. Learn more
Mobile Links
Route your audience to specific sections within your app or site with SMS and mobile deep links. Learn more
How to Create Links with Bitly?
Once you've logged into your account, simply click on the "Create" button at the top right of the dashboard.
Hit the custom domain you want to be associated with your link.
Paste the long URL into the "Paste Long URL" box and click on "Create."
The next screen allows you to edit your link.
Get More Clicks with Custom Links
Make your links powerful marketing assets. To make your link consistently recognizable across channels, you can create custom links with your chosen domain name. They're so powerful, businesses that use them get up to 34% more clicks.
ESPN, Disney, Amazon, Nike, BuzzFeed, The New York Times, Bose and more businesses use Bitly as advertised on www.bitly.com.
If you go to the Bitly website, you can paste in a link in the field in the center of the screen to have it shortened automatically. The field will automatically display your newly shortened link, a button to easily copy it, a summary of the contents of the link, how many clicks it has received and an option to join Bitly as so you can save and monitor all your shortened links.
If all you want to do is use Bitly for the sake of shortening a link, so it's easier to share, you can do that no problem without signing up as a user. But if you'd like to keep your shortened links organized, access your links again in the future and track clicks on those links, then signing up for a free user account is probably a good idea.
Using Bitly With a Free Account
Using a free user account, you will only get access to the Your Bitlinks tab. To use the Dashboard, Custom Bitlinks, and OneView tabs, you must upgrade to a premium account.
On the Your Bitlinks tab, you'll see a bar graph showing the number of Bitlinks you created over the last week (or larger/smaller date range if you customize it using the dates in the top right) plus a brief summary of total clicks, top referrers and top location in the top left of the screen.
37 Ways Brands Use Bitly
According to Bitly, whether you're a paid user, a free user, or just interested in learning more, Bitly offers a little something for everyone. They offer an eBook where you will learn:
How Bitly can be used for social media, mobile, branding, metrics, and content marketing
30+ different ways brands are using Bitly today
How marketers are integrating Bitly with the rest of their workflow and analytics programs
Contact Hooked Marketing to help you get more clients and visibility for your business. If you haven't entered into the website blog arena, or you do not have time to write and post consistently to get good results, give us a call at 727-333-5270 to discuss how we can help you.
Hooked Marketing is based in beautiful Florida just north of Clearwater & Tampa Bay in Palm Harbor. Specializing in marketing, more specifically Organic SEO, AdWords Management, and Website Design. When hiring a local marketing team, you look for experience. Hooked Marketing has experience acquired from hundreds of web designs and marketing campaigns managed over the past 14+ years. Need help setting up a website for your business? Contact us today to get started.