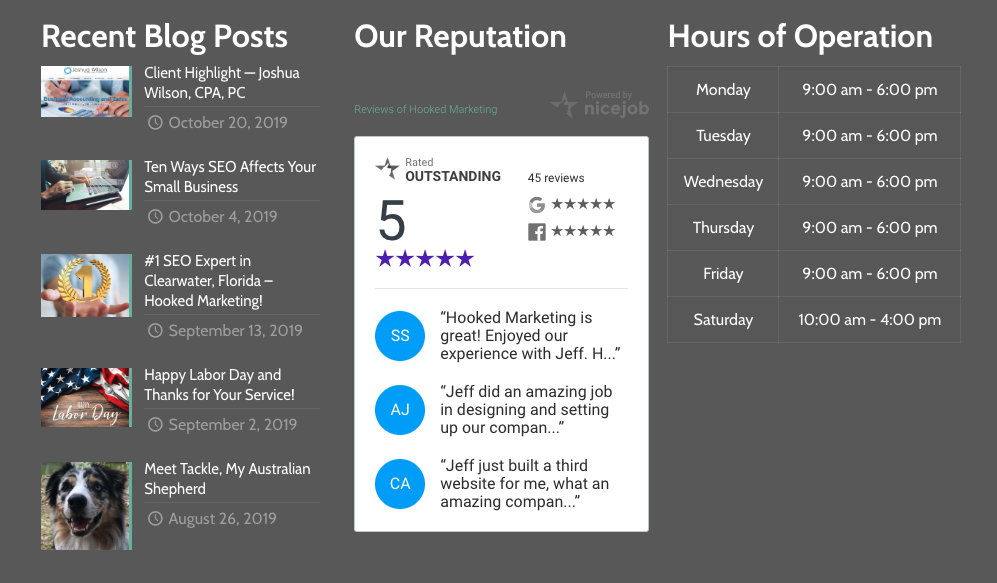 In today's Google SEO world, reviews hold a lot of weight in a purchasing decision. Customers use reviews as a significant tool to make buying decisions. Lack of reviews can communicate a loud negative message to potential prospects who will make assumptions about a company, product, or service. There is an application or app available that will help you with the review process.
NiceJob App
NiceJob is a reputation management tool with review mining and social media monitoring and marketing capabilities. It assists companies in gaining websites from customers and collecting them to create stories they can share on their domains, social media accounts, and major review sites. This also allows them to gain more testimonials from current and past clients.
Benefits of Using NiceJob Review App
Grow your Online Reputation FAST
By publishing their stories or testimonials on different channels, companies gain a positive reputation among their target audience. This lets them build trust amongst their intended customers and further increases their search engine rankings.
Increased Sales
With NiceJob, businesses can also look forward to more sales. The application has a custom Convert website that comes with any plan that guarantees an additional 10% sales.
More Customer Reviews
With NiceJob, brands can gain more reviews without putting too much effort in the process. All they have to do is send invitations via email or SMS to their current or previous customers to encourage them to share their experiences. In the case that invitation recipients do not respond for a set amount of time, the application automatically sends them follow-up messages to remind them to give a review.
Filters Negative Reviews
NiceJob filters negative reviews. This allows companies to carefully manage their reputation and also address the issues encountered by customers. NiceJob application works to encourage multiple testimonials from one invitation.
Increased Social Media Buzz
With NiceJob, brands can create stories based on customer reviews. By posting these stories online, they create a social media buzz around their brand that gets viewed and even shared by people. The application also enables companies to share reviews given by clients on their social media accounts as well as websites that aid them in gaining more customers and also leads to more reviews.
Boost SEO Ranking
Stories created and reviews garnered are automatically syndicated on the branded website. This creates new content that significant search engines such as Google pick up that assist in boosted SEO rankings. This way, businesses gain more visibility and garner more customers in the process.
Overview of NiceJob Features
Here is an overview of the NiceJob App features:
Email Review Invites
SMS Review Invites
Automated Review Follow-Ups
Review Funnels
Stories & Stories Sharing
Reputation Management
Call Tracking
Social Media Monitoring
SEO Management
At Hooked Marketing, we can implement NiceJob Review App on your WordPress website. Give us a call at 727-333-5270 to discuss the process and grow your online reputation FAST.
Contact Hooked Marketing to help you get more clients and visibility for your business. If you haven't entered into the website blog arena, or you do not have time to write and post consistently to get good results, give us a call at 727-333-5270 to discuss how we can help you.
Hooked Marketing is based in beautiful Florida just north of Clearwater & Tampa Bay in Palm Harbor. Specializing in marketing, more specifically Organic SEO, AdWords Management, and Website Design. When hiring a local marketing team, you look for experience. Hooked Marketing has experience acquired from hundreds of web designs and marketing campaigns managed over the past 14+ years. Need help setting up a website for your business? Contact us today to get started.