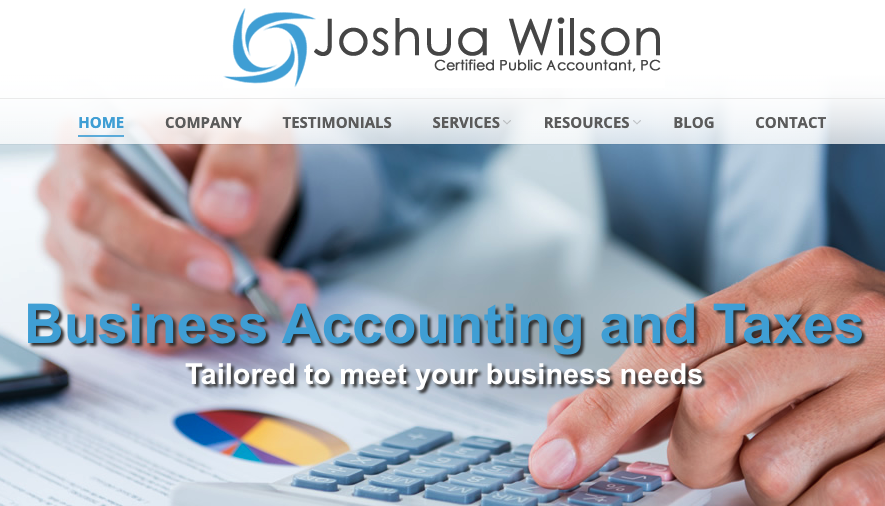 Meet our client, Joshua Wilson, CPA, PC, a full service public accounting firm that specializes in accounting, tax preparation, tax planning, and business development for small businesses in the Gwinnett, Barrow and Walton County areas in Georgia.
Type of Clients
Joshua Wilson, CPA, PC services clients in the following industries: Healthcare Professionals, Construction, Lawyers, Insurance Agents, Restaurants, Real Estate Agents, and more. They take pride in keeping up with all the latest tax laws and being their clients' trusted business advisor.
Trusted Business & Tax Advisor
Joshua Wilson, CPA, PC offers a wide range of services to individuals and businesses in a variety of industries. They are focused on satisfying the needs of their clients, and making sure the client feels comfortable in their finances. They are committed to providing their clients with the tax expertise and services need at an affordable rate. They empower clients by offering key financial information, in a format that is understandable to make sound business decisions. They are dedicated to working with their clients, as a trusted advisor! The professional services that they offer to their clients include:
Individuals
Personal Financial Statements
Tax Preparation
Tax Planning
Tax Problems – IRS, State, etc.
Business
Assistance with New Business Incorporation and Setup
Business Planning & Consultation
Tax Planning
Tax Preparation
Tax Problems –IRS, State, etc
Sales Tax
Other taxes
Accounting and Bookkeeping Services
They can tailor an accounting & bookkeeping service for a client's business to help with all of the following tasks:
Establish Trends In Your Business (positive or negative)
Accurate Financials For Bank And Owners To Review
Accurate and Timely Tax Filing and Planning
Properly Code and Classify Expenses
Timely Financial Statements (Income Statement and Balance Sheet)
Reconciling Credit Card Accounts and Bank Loans
Budgeting
Maintaining A Clean General Ledger
Payroll Services
They offer payroll solutions that meet your business's needs and enable you to spend time doing what you do best, running your company.
Payroll services offered:
Full Service Online Payroll Processing – the client enters and approves the employees hours on payday and Joshua Wilson, CPA does all the rest:
Payroll and Employee Setup
Direct Deposit for paychecks
Electronic drafts for tax payments
Quarterly payroll reports electronically filed
Annual payroll reports electronically filed (940, W2's/W3, etc.)
Email notifications keeping you in the loop
Time clock (optional feature)
Client access to comprehensive payroll reports
One monthly service fee and not per payroll run
After-The-Fact Payroll Services – They can take what you have already done for payroll and get you the necessary payroll reports and taxes.
QuickBooks Services
Joshua Wilson, CPA, PC is a Certified ProAdvisor of Intuit QuickBooks. They assist their clients to use QuickBooks more efficiently and effectively with training. They offer QuickBooks Training, Setup, Basic Accounting Training, and QuickBooks Tips and Questions.
Here is a complete list of services.
Professional Memberships
Joshua Wilson, CPA, PC is an active member of both AICPA and The Georgia Society of CPAs to stay current on information that will impact their clients.
Free Consultation
Joshua Wilson, CPA, PC offers a wide range of business and individual services tailored with each client's goals and needs in mind. They want to give you the tools to help you reach your personal and business goals. Give Joshua Wilson, CPA a call today at 770.856.1309 or email at josh@joshuawilsoncpa.com to set up your free consultation.
Testimonials
Check out testimonials from their satisfied customers.
Newsletter
We encourage you to sign up for their free newsletter to receive tax tips, updates, and business advice.
Hooked Marketing's Efforts
At Hooked Marketing, we are excited to have Joshua Wilson, CPA, PC as our client. We have assisted this client with:
Check out their website and Facebook.
Contact Hooked Marketing to help you get more clients and visibility for your business. If you haven't entered into the website blog arena, or you do not have time to write and post consistently to get good results, give us a call at 727-333-5270 to discuss how we can help you.
Hooked Marketing is based in beautiful Florida just north of Clearwater & Tampa Bay in Palm Harbor. Specializing in marketing, more specifically Organic SEO, AdWords Management, and Website Design. When hiring a local marketing team, you look for experience. Hooked Marketing has experience acquired from hundreds of web designs and marketing campaigns managed over the past 14+ years. Need help setting up a website for your business? Contact us today to get started.