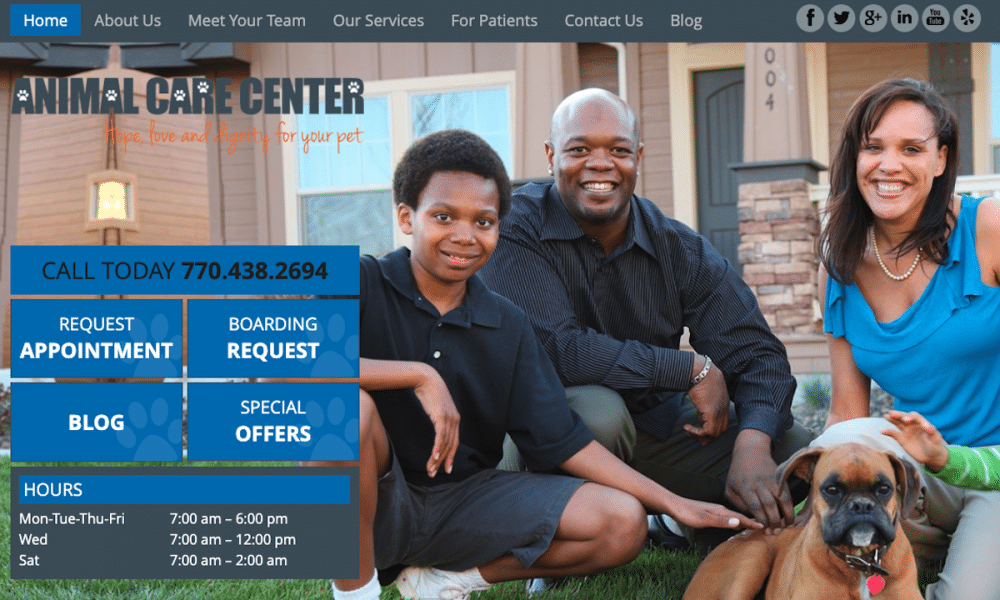 Need a quality caring Veterinarian for your furry loved family member in Smyrna, GA? Meet our client, Otto H. Williams, DVM of Animal Care Center of Smyrna. This veterinary practice specializes in complete healthcare of dogs and cats.
Otto H. Williams, DVM
Otto H. Williams, DVM is a Doctor of Veterinary Medicine and owner and operator of Animal Care Center of Smyrna. Dr. Williams received his DVM at Tuskegee University in Tuskegee, AL, and BSc at Morehouse College in Atlanta, GA. He is a member of American Animal Hospital Association, American Veterinary Medical Association, Georgia Veterinary Medical Association, and Cobb County Veterinary Medical Association.
He will welcome your furry, four-legged friends as a loved family member. His mission is to give your pet hope, love, dignity, and the best veterinary medical care available.
Services
Animal Care Center of Smyrna offers that include preventative, surgical and nonsurgical care, internal medicine, grooming, and boarding to Cobb County and the surrounding cities such as Vinings, Marietta, Mableton, and Sandy Springs, Georgia.
The practice specializes in caring for cats and dogs with compassionate veterinary medicine in these areas:
Vaccinations
Skin and eye care
Bones and joints care
Regular exams and preventive care
Treatment for ear infections
Soft-tissue surgery
Spay and neuter services
Boarding and grooming
Digestive care
Dentistry
Cancer screening
Pet Boarding
Are you going out of town and cannot take your pet with you? Want to make sure they are safe and taken care of while you are gone? Animal Care Center is equipped for safe, comfortable overnight boarding for your dog or cat. While you are gone on your vacation, they will have their own vacation sleeping on a cushy indoor kennel and playing with friends in a large outdoor exercise area and playground. Book your boarding through a convenient online boarding request form. Pets come from Austell, Cumberland, Mableton, Marietta, Sandy Springs, Smyrna, and Vinings to stay there.
For Your Convenience

Animal Care Center offers for your convenience:
Flexible and interest-free payment plans
CareCredit financing
Visa, MasterCard, Discover, and American
Express accepted
Convenient hours (early morning, early evening and Saturdays from 8 am until 2 pm)
Emergencies welcome
Convenient location
Hours
The hours of operation of the practice are:
Monday 7:00 am – 6:00 pm
Tuesday 7:00 am – 6:00 pm
Wednesday 7:00 am – 12:00 pm
Thursday 7:00 am – 6:00 pm
Friday 7:00 am – 6:00 pm
Saturday 7:00 am – 2:00 pm
Sunday Closed
Hooked Marketing's Efforts
At Hooked Marketing, we enjoy working with Animal Care Center of Smyrna as our client. We have assisted this client with:
Check out their website and Facebook.
Contact Hooked Marketing to help you get more clients and visibility for your business. If you haven't entered into the website blog arena, or you do not have time to write and post consistently to get good results, give us a call at 727-333-5270 to discuss how we can help you.
Hooked Marketing is based in beautiful Florida just north of Clearwater & Tampa Bay in Palm Harbor. Specializing in marketing, more specifically Organic SEO, AdWords Management, and Website Design. When hiring a local marketing team, you look for experience. Hooked Marketing has experience acquired from hundreds of web designs and marketing campaigns managed over the past 14+ years. Need help setting up a website for your business? Contact us today to get started.