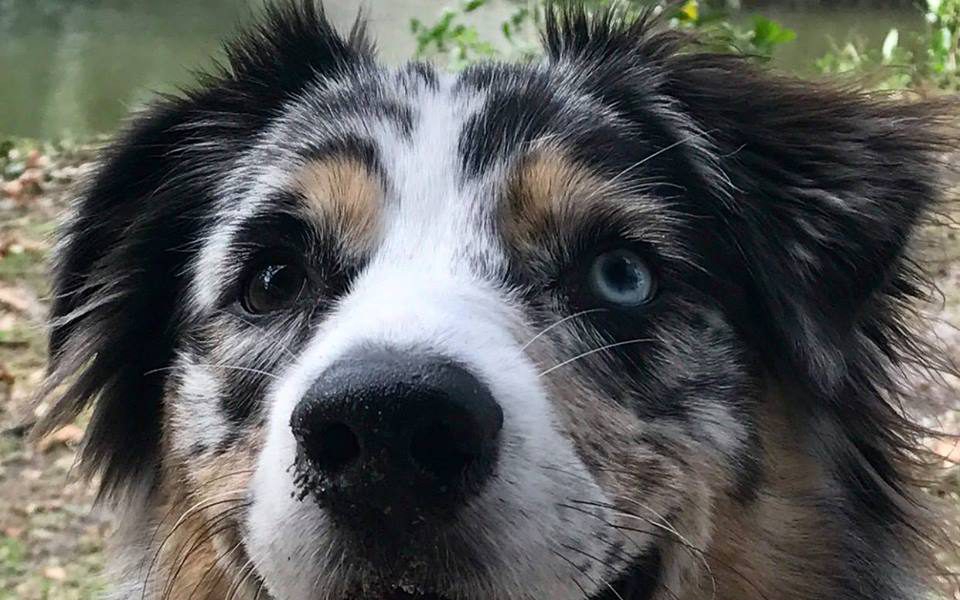 If you know me, you know how much I love my dog Tackle. He is my constant companion at work creating websites, home enjoying my wife and son, walking around Crystal Beach in Palm Harbor, out in my boat catching fish, and sometimes going to a client's office. See this video of Tackle!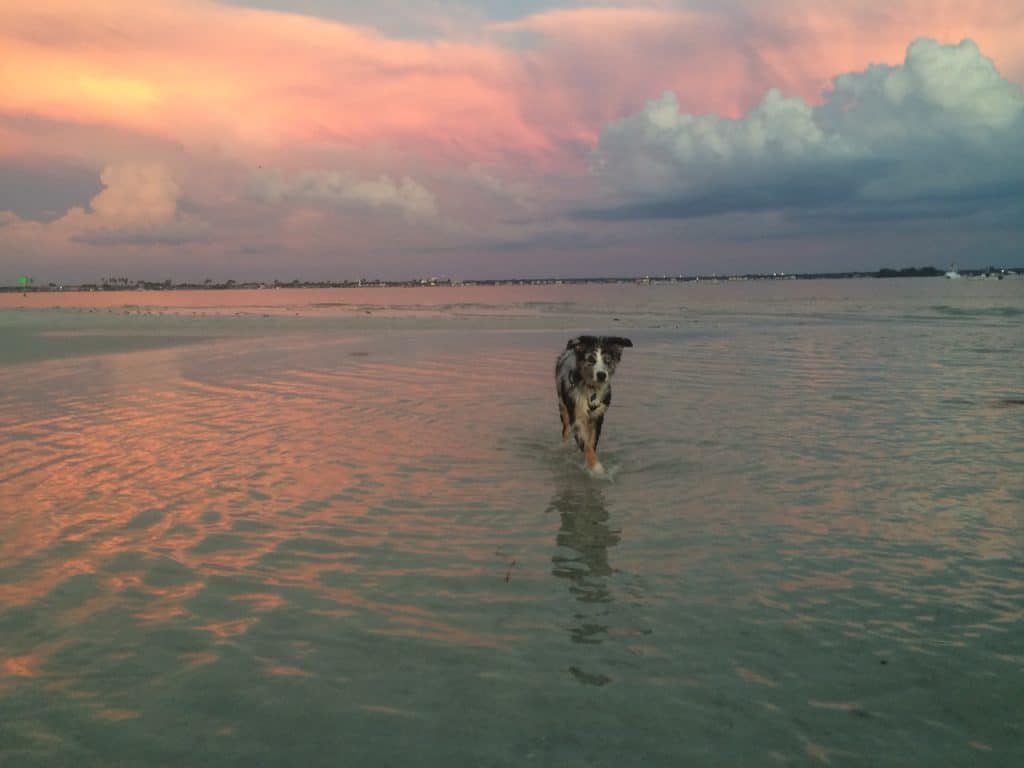 Tackle is an Australian Shepherd and is a fantastic family dog. He loves my wife and child and is an important part of our family. He has been with us as a young pup for the last three years. In case you are wondering, I named Tackle since my passion is fishing. It just fit!
Here is Tackle meeting my son Finn.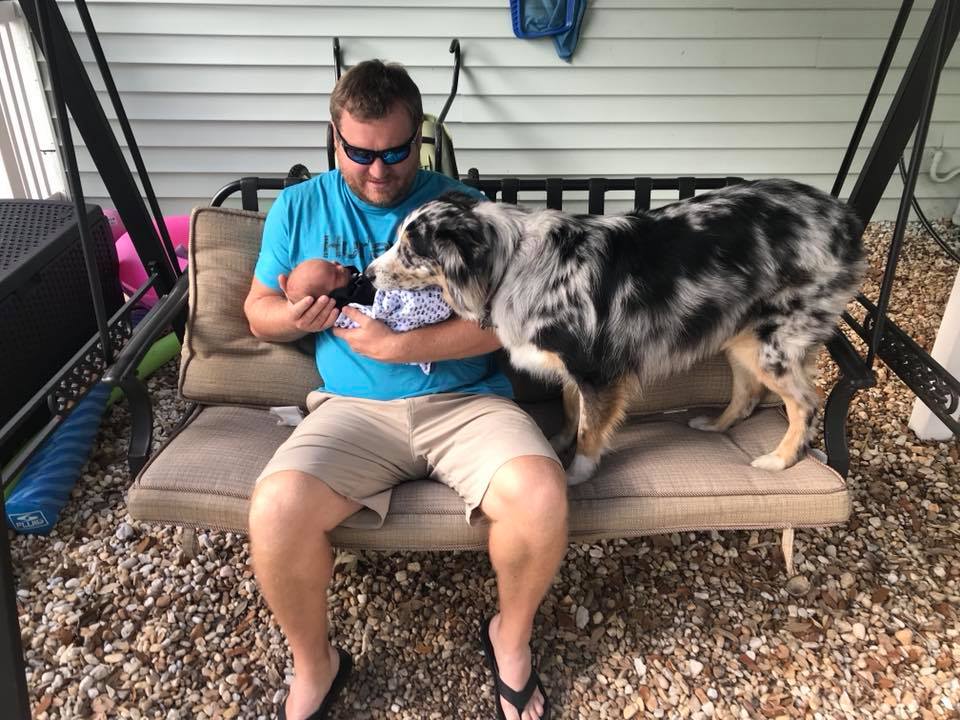 My mom's dogs, Bonnie and Clyde, love hanging with Tackle.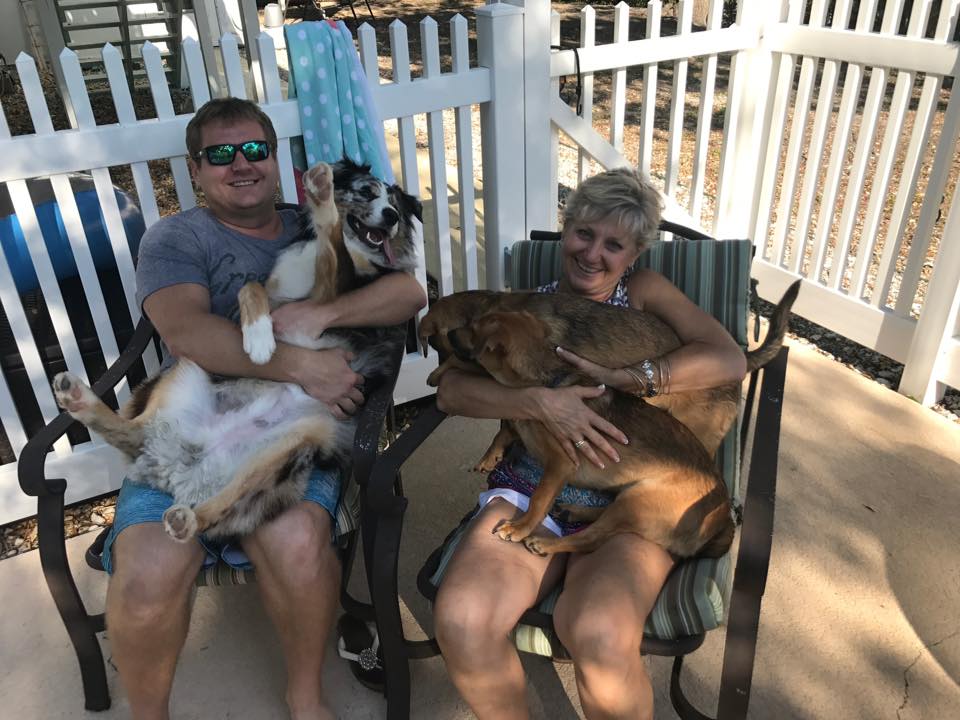 Taking a little break from our work day to enjoy the Florida sunshine. You see who gets the float!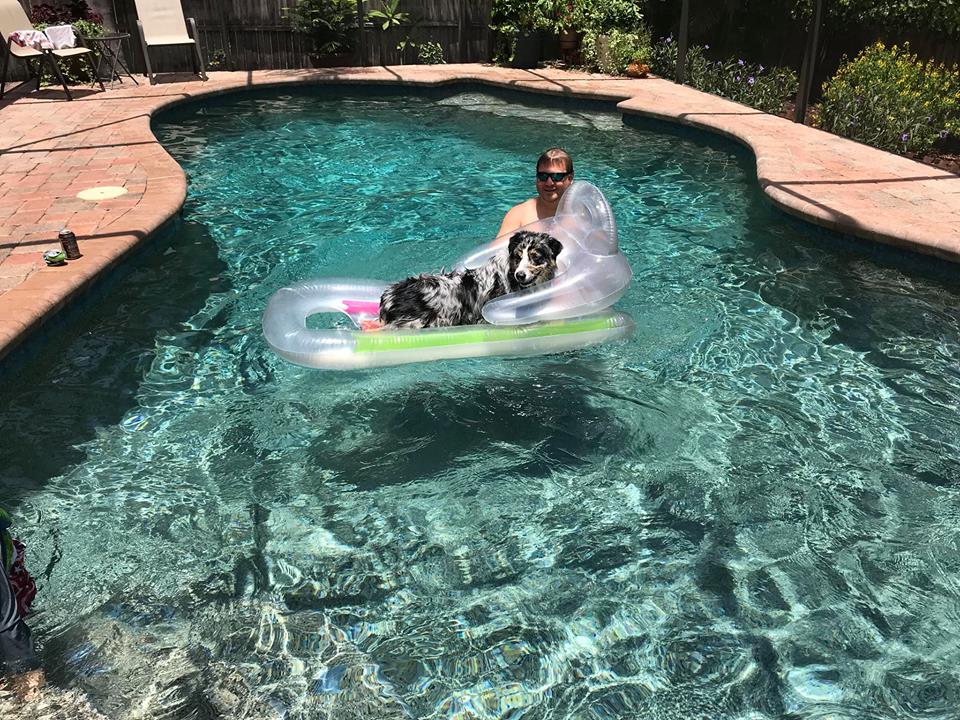 Learn all about this breed:
Australian Shepherd
The Australian Shepherd breed was originated in the western U.S., around the time of the Gold Rush in the 1840s. Interestingly enough, their name is not from Australia like its name would indicate. Originally bred to herd livestock, this breed remains a working dog breed at heart. The Aussie, as he's nicknamed, is happiest when he has a job to do. This dog can be an excellent family addition as a companion. Channel their high intelligence and energy into dog sports or activities.
Despite his name, this is an American-born breed. The Australian Shepherd was initially developed to herd livestock for ranchers and farmers in the western U.S., and some modern-day Aussies still hold that job.
It is believed that the Aussie's heritage includes collie and shepherd-type dogs that were imported with shipments of sheep from Australia during the 1840s. Breeders strove to enhance their herding ability and create a dog who was versatile, hard-working, and intelligent.
The breed enjoyed a popularity boom in the post-World War II years that went hand-in-hand with a renewed interest in Western-style horseback riding. Crowds at rodeos or horse shows, and audiences of western movies or TV shows were wowed by the athletic dogs they saw working alongside the cowboys. Despite the popular interest, the breed wasn't recognized by the American Kennel Club until 1993.
The Australian Shepherd is an eye-catching, energetic, and clever dog that proved so useful to ranchers and farmers in the old West. He's loved by many and enjoys his life as a family companion, protector, and herding dog.
Vital Stats
Dog Breed Group: Herding Dogs
Height: Males – 20 to 23 inches tall at the shoulder for males
Females – 18 to 21 inches
Weight: 40 to 65 pounds
Life Span: 12 to 15 years
Care
For the best care, your Aussie needs at least a half-hour to an hour each day of stimulating activity, such as a run, a Frisbee game, or obedience or agility exercises.
As puppies, they don't need as much hard exercise as adults. Don't let them run them on hard surfaces such as concrete or let them do a lot of jumping until they're at least a year old. This exercise could stress their still developing skeletal system and cause future joint problems.
Training
The Aussie habit of nipping and chasing is excellent for herding sheep but bad manners when it's applied to humans and other pets. Obedience class can help you curb your Aussie's herding behavior, and they help satisfy his need for mental stimulation and work, too.
Aussies respond well to training methods that use positive reinforcement — rewards such as praise, play, and food — and are usually happy to take commands from their trainer. They just want to know who's in charge so they can do a good job for them.
Appearance
An Aussie is very unique looking with an attractive medium-length coat and dark brown, green, blue yellow, or amber eyes.
Highlights
30 to 60 minutes of exercise a day of high-energy activities like playing Frisbee. They need a job to do as well, such as daily obedience training or competing in herding and agility trials.
Exercise and mental stimulations will keep them from being destructive and barking for long periods.
They bark to alert you if they see or hear something suspicious, and will protect their family and home with a surprising fierceness.
Although Australian Shepherds have a reputation for needing wide-open space, they do just fine in cities if they get enough stimulation and exercise. They're not good apartment dogs, though. To get the high energy out, you'll need at least a small yard.
This herding dog's pushiness with livestock can carry over into the home and, with a timid or inexperienced owner, he may assume the dominant role in the family. This breed needs an alpha male that is firm and confident.
Australian Shepherds are average shedders, and their coat needs regular maintenance, including weekly brushing to keep it clean and prevent matting, and possibly trimming to keep it looking tidy.
Aussies enjoy the company of their family and prefer to stick close to their human pack. They don't do well stuck in the backyard by themselves for long periods.
Aussies are by nature standoffish with people they don't know. Give your Aussie lots of contact with friends, family, neighbors, and even strangers to help him polish his social skills.
Contact Hooked Marketing to help you get more clients and visibility for your business. If you haven't entered into the website blog arena, or you do not have time to write and post consistently to get good results, give us a call at 727-333-5270 to discuss how we can help you.
Hooked Marketing is based in beautiful Florida just north of Clearwater & Tampa Bay in Palm Harbor. Specializing in marketing, more specifically Organic SEO, AdWords Management, and Website Design. When hiring a local marketing team, you look for experience. Hooked Marketing has experience acquired from hundreds of web designs and marketing campaigns managed over the past 14+ years. Need help setting up a website for your business? Contact us today to get started.