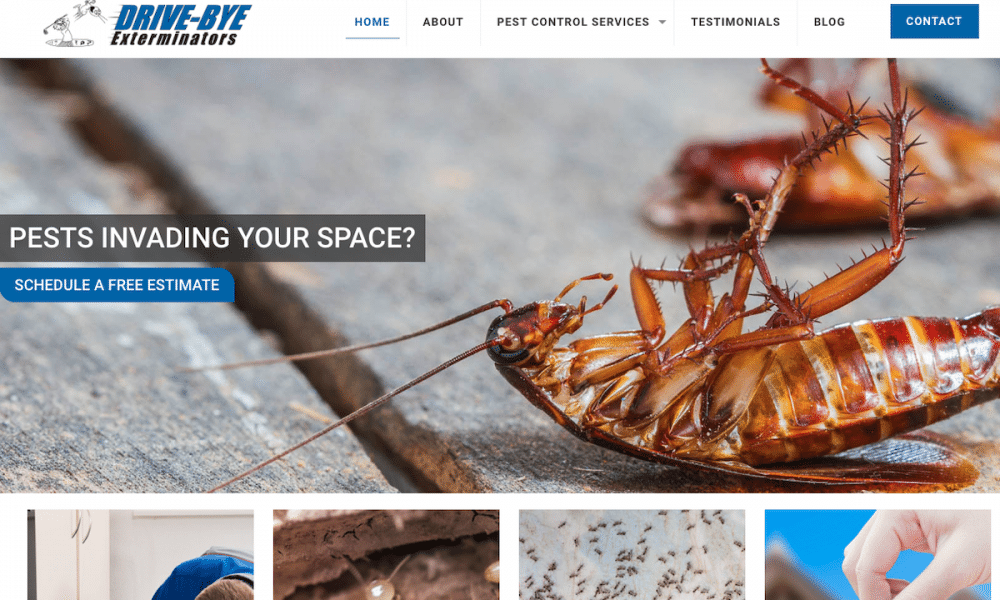 Meet our client, Drive-Bye Exterminators, a family-owned and operated business since 2005 by Tom and Sherri Smiddy in Clearwater, Florida. Drive-Bye Exterminators is a full-service pest management company that services residential and commercial properties. They specialize in exterminations and pest control and provide a wide range of insect control services.
Service Areas
Drive-Bye Exterminators is located in Clearwater, Florida and services Clearwater, Clearwater Beach, Palm Harbor, Dunedin, Safety Harbor, Oldsmar, Ozona, Crystal Beach, Tarpon Springs, Largo, Seminole, St. Petersburg, St. Pete Beach, Gulfport, Kenneth City, Belleair, Indian Rocks Beach, Holiday, New Port Richey, Port Richey, Hudson, Lutz, Land O' Lakes and Tampa.
Pest Extermination Services
This exterminator business offers pest control services for all types of household pests. With a thorough inspection of your home, they identify the pests you are seeing as well as the ones you may not be seeing. Then, they provide an effective treatment plan by attacking pest where they live.
Interior Treatment
Their initial interior treatment focuses on pest harborages such as the kitchen, bathroom, storage, and utility areas. Drive-Bye uses a variety of treatment applications to control targeted pest behind plumbing areas, wall voids, and appliances.
Exterior Treatment
The exterior treatment focuses on entryways such as doors, windows, eaves, and along the foundation around the entire perimeter of the structure.
Roaches
Spiders
Ants
Fleas
Termites
Rats
Silverfish
More
Residential Pest Control
Most of their services are performed on a once-a-year or quarterly basis.
Other service frequencies are available depending on the type of insect, the size of the structure to be treated, and the severity of the infestation. Your inspector will make the recommendation that best suits your needs.
Commercial Pest Control Services
Drive-Bye Exterminators knows how important your business is to you. They realize that all businesses are different and therefore, so are the pest control needs. Drive-Bye Exterminators strive to develop a unique approach to each business that they serve.
They offer complete pest control, including:
Roaches
Spiders
Silverfish
Ants
Termites
Fleas
Rats
More
Real Estate Inspection Services
They are proud to work with many of the leading Realtors and mortgage companies in the Tampa Bay Area, and they also perform inspections for foreclosures and bank-owned properties.
As a Realtor, recommending a home inspector for your client is one of the most important things that you can do as their peace of mind relies on your recommendation.
Real estate termite and pest inspections are a big focus of their business. In real estate, time is of the utmost importance, and their goal is to provide you with next day service.
With a termite inspection from Drive-Bye Exterminators, you can expect:
25 years of experience
Real estate termite inspections
Termite control programs and treatments
Commercial and residential pest control
Tent fumigations and non-tenting methods
State certified
State-licensed
Fully insured
Reports issued
Pest Control Programs
At Drive-Bye Exterminators, they offer same day, one-time, monthly, quarterly, and yearly extermination service programs which are all very effective pest control programs.
Competitive Prices and Written Guarantees
They offer competitive prices and guarantees and provide customer friendly service from their entire staff. They make it a point to provide helpful information and knowledge to educate their customers and address all individual needs and requirements.
Free Pest Control or Termite Inspection
Have a question, or do you want to receive a free pest control or termite inspection? Contact Drive-Bye Exterminators to schedule your free estimate. Or, you can call them at 727-423-9040.
Same Day and After-Hours Service
They have same day and after-hours pest elimination or schedule monthly, quarterly, and yearly extermination service appointments.
Affiliations
They are very proud of their affiliation with both Florida and National Pest Management Associations. Two of their associates served as Regional Director and Voting Board Members.
Fully Licensed and Insured
They have state-certified inspectors and are licensed and fully insured. They concentrate on your complete satisfaction and the security of your investment.
A+ Rating with Better Business Bureau
One of the indicators that your Pest Control Company is legitimate and can be trusted to do a professional job for you is to look for an A+ Accredited Business rating with the Better Business Bureau. There is a custom review rating which helps to create a rating from the BBB. Drive-Bye Exterminators has an A+ rating!
Drive-Bye Exterminators is on Angie's List as a vendor, and you can see their excellent reviews.
Google Review
Check out Drive-Bye Exterminators on Google Review to read stellar comments from our satisfied customers.
FREE Pest Control Inspection
Request a FREE Pest Control or Termite Inspection today with the Professionals of Drive-Bye Exterminators. Contact Drive-Bye at 727-423-9040.
Hooked Marketing's Efforts
At Hooked Marketing, we are excited to have Drive-Bye Exterminators as our client. We have assisted this client with:
Check out their website and Facebook.
With their SEO ranking recently, they were ranked three times in their local search.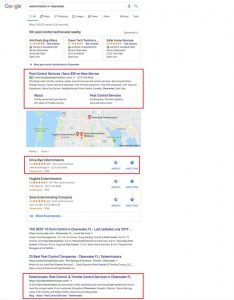 Contact Hooked Marketing to help you get more clients and visibility for your business. If you haven't entered into the website blog arena, or you do not have time to write and post consistently to get good results, give us a call at 727-333-5270 to discuss how we can help you.
Hooked Marketing is based in beautiful Florida just north of Clearwater & Tampa Bay in Palm Harbor. Specializing in marketing, more specifically Organic SEO, AdWords Management, and Website Design. When hiring a local marketing team, you look for experience. Hooked Marketing has experience acquired from hundreds of web designs and marketing campaigns managed over the past 14+ years. Need help setting up a website for your business? Contact us today to get started.