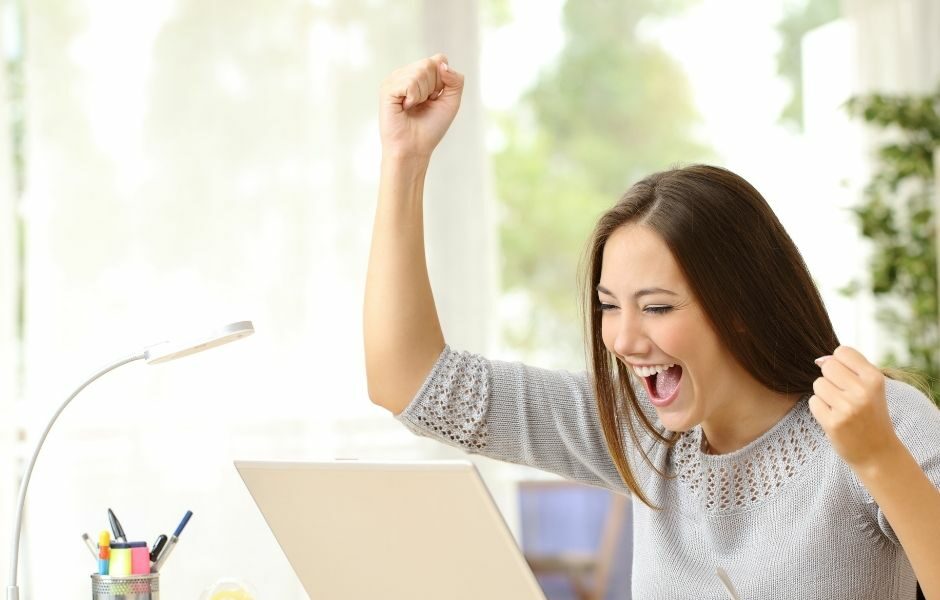 You pour your heart and soul and basically all of your time into your business.
And you always provide quality work and top-notch customer service.
So, you're probably asking "why isn't every customer you serve leaving you a 5-star review?"
This is a question that our partners at NiceJob study every day as we try to improve the customer review process. Through constant evaluation of the tens of thousands of reviews that they process, we've come to understand the easiest way to win more customer reviews so that you can get the reputation your business deserves and start booking more jobs.
We'll cover why online reviews are incredibly important, we'll talk about the pros and cons of using a reputation marketing software vs. manually chasing reviews, and how to effectively ask for reviews from your customers.
Let's go! More five-star customer reviews for your business await.
The importance of reviews and how they will help your small business grow
Never underestimate how important reviews are for customers when they're considering a purchase. As a consumer, you've read or watched reviews before hitting "Checkout." You have, I know it. We all do it.
In fact, I'm going to hit you with a few stats to show you the importance of customer reviews isn't just hearsay or a fleeting trend:
82% of consumers read online reviews for local businesses before buying from them
The average person reads ten reviews before trusting a business
Only 53% of people consider purchasing from a business that has less than an average 4-star rating
Among all potential customers who read reviews, 97% of them also read the business' responses.
(Source)
With those figures in mind, we know how important reviews are to consumers, so we can extend this logic to determine that generating five-star reviews is equally important for any business.
3 reasons reviews are important for small businesses
Displaying reviews gets you the reputation you deserve
It's one thing for you to believe that you offer exceptional customer service. It's an entirely different thing if your customers feel the same way. Reviews certify that you do in fact meet and exceed your customers' needs and that your business merits their patronage.
Most often when you request a review from a happy customer, they will leave one, solidifying your reputation in the local market.
I should also mention that Google loves reviews as well. The more you're able to collect and respond to recent reviews, the more Google will prioritize showing your business to those searching—this is how you establish your reputation online.
Reviews validate your customers' buying decisions
Humans are naturally risk- and regret-averse. We find it challenging to try new products and services, especially if we have to put money on the line. Oh, and if there's any chance of buyer's remorse, you can forget about making the sale!
One way to balance these natural human behaviors is with reviews. Testimonials from other satisfied customers help put future customers' minds at ease. Seeing happy customers allows future customers to trust that their hard-earned money will go towards something worthy, something they can feel confident about purchasing.
Increase your website's conversion rate using reviews
Back a few paragraphs ago, I mentioned that Google loves reviews.
Google and other search engines take reviews seriously because they show that the public verifies or vouches for a business—kind of like votes. This helps Google decide which businesses to show to people searching for services like yours.

Since reviews help your website be more discoverable, it's likely that more people will click through to your website. Once they're on your site, you have another opportunity to showcase your awesome reviews.
Using reviews or testimonials will help potential customers feel confident booking your services, increasing the likelihood of clicking a "Contact Us" link or submitting a "Request Quote" form.
This is how reviews can increase your website traffic and help convert passive website visitors into paying customers.
How to win more customer reviews
When it comes to winning more reviews, there are three ways you can do this.
Manual review collection, which iswhere you request, collect, distribute and track reviews using your own methods.
Marketing software or a customer-relationship tool will help automate the review-collection process; however, review-collection may not be the main goal of using a software like this.
Reputation-marketing software, such as a tool like NiceJob, will allow you to easily ask for Google reviews in a way that is fully automated and specifically designed to help you win 2x more online reviews.
Let's dig into these options in more detail below, and then we'll look at which one would be best for you.
Solution
Dollar Cost
Time Cost
Pros & Cons
Manual Review Collection
$0
High
Pros: No dollar cost Cons: Time-intensive Error-prone
Marketing Software or Customer-Relationship Management (CRM)
$65-200+ per month
Medium
Pros: Access to many software features in one platform Moderate time commitment Access to support team
Cons: Expensive Not focused on winning reviews Automatic review distribution to multiple platforms (e.g., Google, Facebook, etc.) isn't common
NiceJob
$45-75 per month
Low
Pros: Moderate expense Low time commitment Automatic review-request and -distributing process Win 2x more reviews 1:1 support Cons: Not an all-in-one business solution
Manual review collection
You can absolutely ask for, collect, track and respond to reviews on your own. Although this option doesn't cost a lot of money, it costs you a lot of time and may not yield as many reviews as you would like.

Dollar cost: Manually collecting reviews doesn't cost any money and is far and away the cheapest option.
Time cost: The amount of time it will take to manually collect reviews will depend on the number of reviews you request, whether you have set up automatic follow-ups and how you track outgoing requests, incoming reviews & review responses.
Overall, you can expect to spend several hours every month manually soliciting reviews.
Pros:
Low dollar cost: This is the cheapest option, because nothing is cheaper than free. If you don't have any budget allocated for winning reviews, then this is a good option.
Cons:
Compared to using any software program to help you win more reviews, doing it manually will eat up several hours a month.
When you manually collect reviews, there's a good chance you'll make some mistakes. You might forget to ask for a review in the first place or accidentally ask the same customer too many times; perhaps you forget to follow up entirely and risk losing the review. There are many ways things can go sideways when you do it yourself.
Who this is best for: Manual review collection is best for small businesses who are just starting out and only have a small number of customers from whom they need to request reviews, or if you have no budget to allocate towards building your reputation via reviews.
Marketing software or customer-relationship management (CRM) software
There are many companies that offer software platforms with review-collection functionality as one of the many features offered via a single platform.
Dollar cost: There is a wide range of potential costs depending on the software you go with. Limited review functionality can start at $65 per month wrapped into a CRM; some specialty platforms can reach as high as $200 per month.
Time cost: It's relatively simple to get set up on a marketing software or CRM tool, especially with the assistance of available support teams. Where you will spend the most time will be learning to use all of the features, and depending on the effectiveness of the software's review-collection feature, you may have to spend extra time to get desired results.
Pros:
With one software, you may be able to accomplish many of your business objectives.
You will likely have to spend some time learning how to use all the features and accomplish your goals; however, a support team might be available to assist you.
Depending on the functionality of the software, you may be able to request, track, respond and distribute your reviews to multiple platforms.
Cons:
Since these platforms offer so many features, they tend to be on the expensive side.
These tools are not focused on helping you win more customer reviews. If you're able to win some reviews using one of the types of softwares—that's a bonus!
Cannot guarantee review automation, distribution or tracking.
Who this is best for: multi-function software that includes some lite review functionality is best for anyone looking to accomplish many business objectives from one platform.
However, keep in mind that if winning more reviews is a goal of yours, this may not be a great option since the software isn't specifically designed to help you do that. Or, if you find feature-overload deters you from using the software to its full potential, this probably isn't the best option for you.
For this method we work with NiceJob since they are the best-of-breed when it comes to reputation-marketing software.
NiceJob's reputation-marketing software is specifically designed to help you win 2x more customer reviews by transforming otherwise tedious tasks and automating the entire process from requesting reviews to collecting, distributing and monitoring them.
Dollar cost: NiceJob is moderately priced at $45-75/month depending on which plan you choose; however, you can try it for 14 days for free to see if it's right for you.
Time cost: With a customer-support team ready to assist you, set up is super simple. NiceJob automates the entire review-collection process so you can sit back and watch those reviews roll in.
Pros:
The software is designed to help you win 2x more reviews. And it works.
This automated system reduces your time commitment. No more chasing reviews. (But the support team is awesome and there if you need them.)
Easily monitor and track your reviews from within a single dashboard.
Add photos and share them across social media to enhance your reviews.
Connect NiceJob to the apps you love, like Jobber, HouseCall Pro, Intercom and more.
Cons:
NiceJob focuses on reputation marketing; however, if you are looking for an all-in-one business solution, then this isn't it.
Who this is best for: NiceJob is best suited for business owners looking to grow their company and are ready to make the jump from manual review collection to automated reputation marketing.
Ready to win more online reviews?
The reputation you deserve is within your reach. Plus, it really doesn't need to be a complicated, time-consuming ordeal with spreadsheets, reminders and many wasted hours you could have spent working on your business.
If you're interested in a solution to help you win more reviews, then I recommend signing up for NiceJob.