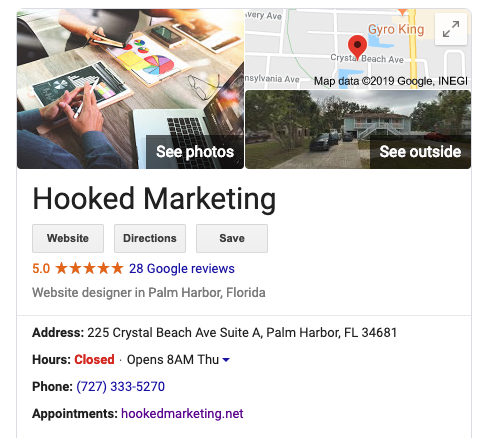 Reach beyond just your social media followers. Attract prospects searching for your business a reason to go to your website by posting blogs, updates and offers directly to your Business Profile on Google.
A digital listing on Google My Business is one of the best, free marketing tactics for any local business. It's critical to helping you attract more customers when they search for you using either Google Search and Google Maps.
Google my business
"According to Net Market Share the global marketing share percentage, in terms of the use of Search Engines heavily favored Google throughout 2017 – averaging a net share of 74.54%.  This again reinforces the fact that Google is the market leader, however, it also highlights that the "Others" such as Yahoo, Bing and Baidu etc. still hold a large audience and it would be silly to simply ignore them (averaging between 5-10% market share)," report SmartInsights.com.
Optimization
To maximize your SEO, it is important to optimize Google my business to attract more clients and increase review for a business. Here are the steps to optimize your Google account:
Claim your free listing.
56% of local retailers haven't claimed their free Google My Business account. This is surprising because a Google study found that 50% of consumers who conducted a local search on their smartphone visited a store within a day.
Populate the listing with basis information

Name, Address, Phone and Website
Business Categories
Logos and photos (the more the better)
Business hours
Reviews
Overall Star Ratings
Link to Google Maps
A lot of companies make this mistake. They end up claiming their Google My Business account, but only add the bare minimum details, and then abandon it. You are leaving money and prospects on the table. You need to optimize it. Claiming the account is just the beginning. Google My Business can lead to increased sales and improved customer loyalty if you leverage it correctly.
Search Engine Optimization "SEO"
If you've ever searched for a business name, you'll often see their Google My Business "GMB" knowledge panel which is a card containing important information that customers want to know about your business.
If you're on a cell phone, your GMB will often be at the top searched result before the organic results.
If you're on desktop, your GMB will be displayed just to the right of the organic and paid search results like this: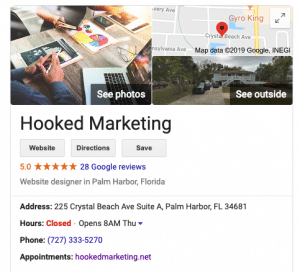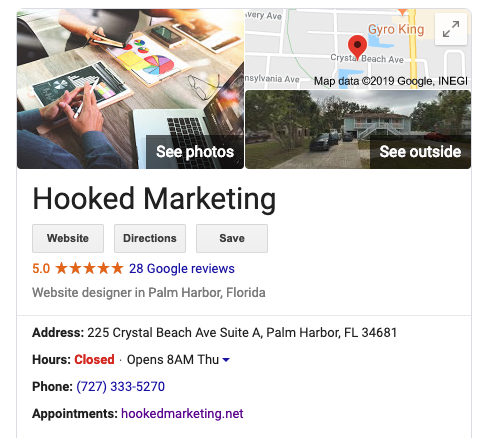 Blogs
Once you write your weekly blog, make sure you take the URL from your blog on your website along with the photograph and create a post from your Google My Business Account. Google will see it and you start to rank higher in SEO.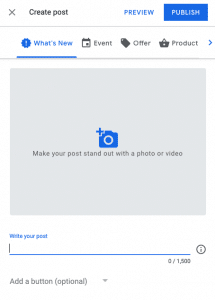 Check out the 2018 Local Search Ranking Factors that show several categories that support posting blogs on Google My Business.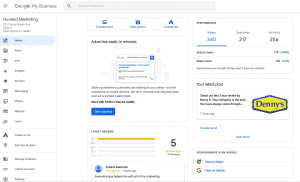 2018 Local Search Ranking Factors
Moz.com reports the 2018 Local Search Ranking Factors:
Link Signals(Inbound anchor text, linking domain authority, linking domain quantity, etc.) 94%
On-Page Signals(Presence of NAP – name, address and phone), keywords in titles, domain authority, etc.) 03%
Behavioral Signals(Click-through rate, mobile clicks to call, check-ins, etc.) 5%
Google My Business Signals(Proximity, categories, keyword in business title, etc.) 85%
Citation Signals(IYP/aggregator NAP consistency, citation volume, etc.) 41%
Personalization32%
Review Signals(Review quantity, review velocity, review diversity, etc.) 47%
Social Signals(Google engagement, Facebook engagement, Twitter engagement, etc.) 47%
The three main benefits of Google My Business are:
Increased visibility in search
More traffic to your website, social channels, and store
Better shopping experience for buyers
If you haven't created a Google My Business account yet, here is how to create your FREE listing.
Contact Hooked Marketing to help you get more clients and visibility for your business. If you haven't entered into the website blog arena, or you do not have time to write and post consistently to get good results, give us a call at 727-333-5270 to discuss how we can help you.
Hooked Marketing is based in beautiful Florida just north of Clearwater & Tampa Bay in Palm Harbor. Specializing in marketing, more specifically Organic SEO, AdWords Management and Website Design. When hiring a local marketing team, you look for experience. Hooked Marketing has experience acquired from hundreds of web designs and marketing campaigns managed over the past 14+ years. Need help setting up a website for your business? Contact us today to get started.