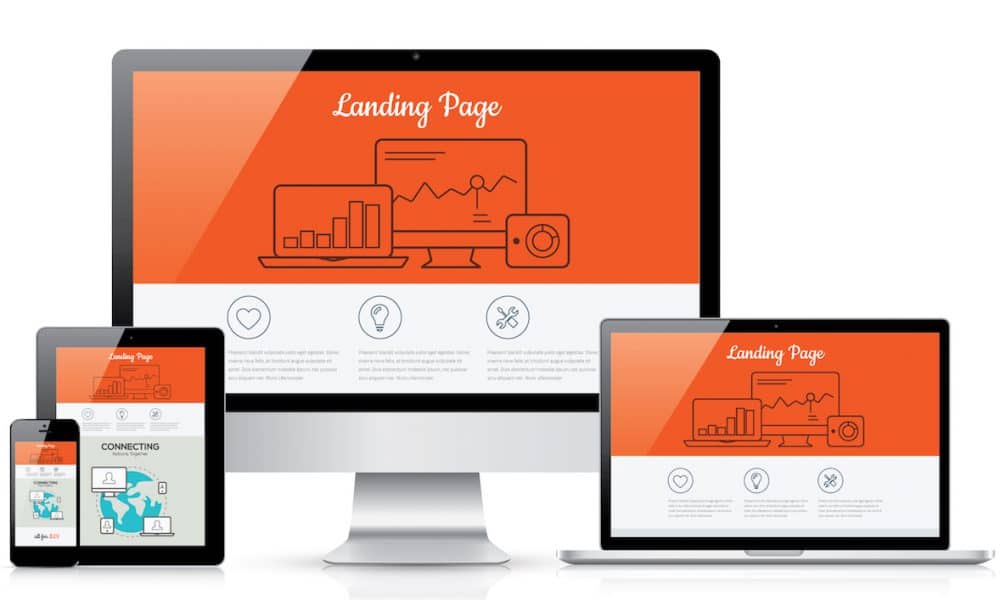 Have you ever head of the term "landing page"? Do you know what one is? Did you know they relate to webpages? Do you know how important they are to converting a prospect into a client? Did you realize that they are a great source to capture a visitor's information? Do you want to know more about them so you can start using them? Then, keep reading.
What is a landing page?
According to Hubspot.com, "a landing page is a website page that allows you to capture a visitor's information through a lead form. A good landing page will be targeted to a particular stream of traffic – say from an email campaign advertising a particular whitepaper – and, because it is targeted, and because it has an interesting offer behind a lead capture form, you will convert a higher percentage of your website visitors into leads with which you can follow up".
"A landing page is a page on your site that is designed to convert visitors into leads. A landing page is different from other pages in that it follows both of these criteria:
It has a form that allows you to capture a visitors information in exchange for a desired offer.
The sole purpose of the landing page is to convert visitors into leads (i.e.: a homepage with a form on it does not count as a landing page because it serves other purposes as well)," com.
Converting visitors into leads is the first step in creating a relationship between your company and a potential customer. The more landing pages you have the better. In fact, HubSpot conducted a recent study that showed that marketers saw a 55% increase in leads when they increased the number of landing pages on their site from 10-15. This data alone tells us that landing pages are important, but if you aren't sure what this means for your company, do not fret. Everything you need to know about what landing pages are and how they work is right here.
A landing page is any page with no distractions that has a form on it.
How do they work?
Behind the scenes, landing pages work like this:
STEP 1: A person sees a call-to-action and ends up on a landing page with a form
STEP 2: The person fills out a form which converts them from a visitor into lead.
STEP 3: The information from the form fields is then stored in your leads database.
STEP 4: You market to the contact or lead based on what you know about them.
https://blogs.constantcontact.com/10-types-of-landing-pages-to-help-you-meet-your-goals/
What makes a landing page a success?
"When looking at landing page examples for inspiration, it's important to first consider the goal of the landing page, the mediums used for promotion, and the tools used to design the landing page. If your goal is more registrations to your event, and you plan to use email marketing as the medium of promotion, then direct subscribers and potential customers should receive an email with a clear call-to-action linking to a landing page dedicated to the event.
The landing page design must then give out the necessary information, including reasons why the reader should attend, the event location, and a clear call-to-action to register for the event. If possible, you should also include "social proof" or testimonials and case studies from well-known companies in the space who trust your product or service to achieve some desired outcome. Your email and landing page design should both be clear and concise, making it easy for interested attendees to register," explains Constant Contact.
Key elements of the best landing pages
Here are the key elements of the best landing pages:
·            Relevant and specific to your goal
·            Simple and impactful
·            Concise and easy to complete
·            A landing page that fulfills a promise or offer
 10 types of successful landing pages
Now that we have discussed what a landing page is and what it takes to meet your goal, let's talk through examples of different landing page types to help you get started.
1. Trials or email list membership
2. Landing pages that offer solutions
3. Promoting a single product or service
4. Landing pages for new launches
5. Sales and promotions
6. Donations and other contributions
7. Event registrations
8. Lead capture forms
9. Downloadable material
10.  Infographics and videos
Call to action (CTA)
"In digital marketing, a page is a standalone web page, created specifically for the purposes of a marketing or advertising campaign. It's where a visitor "lands" when they have clicked on a Google AdWords ad or similar. Landing pages are designed with a single focused objective – known as a Call to Action (CTA). This simplicity is what makes landing pages the best option for increasing the conversion rates of your Google AdWords campaigns and lowering your cost of acquiring a lead or sale," reports Unbounce.com. Try to have only one call to action on your landing page for better results.
Contact Hooked Marketing to help you get more clients and visibility for your business. If you haven't entered into the website blog arena, or you do not have time to write and post consistently to get good results, give us a call at 727-333-5270 to discuss how we can help you.
Hooked Marketing is based in beautiful Florida just north of Clearwater & Tampa Bay in Palm Harbor. Specializing in marketing, more specifically Organic SEO, AdWords Management and Website Design. When hiring a local marketing team, you look for experience. Hooked Marketing has experience acquired from hundreds of web designs and marketing campaigns managed over the past 14+ years. Need help setting up a website for your business? Contact us today to get started.