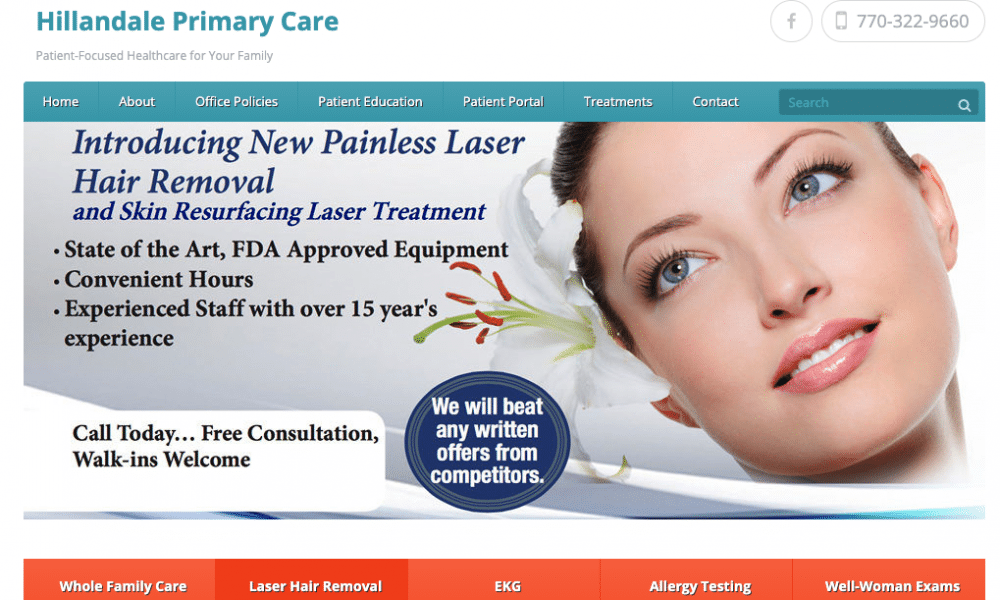 At Hooked Marketing, we get very excited about supporting our clients and want to tell the world about them. Meet one of our quality clients — Hillandale Primary Care.
Hillandale Primary Care
Dr. Saira Niaz is a board-certified primary care provider for your overall and long-term healthcare needs. Dr. Niaz is a family medicine doctor and is affiliated with multiple hospitals in the area, including Emory Decatur Hospital and Emory Hillandale Hospital. She earned her medical degree from Dow University of Health Sciences, and she has been in practice for more than 20 years. Dr. Niaz accepts the majority of health insurance.
Dr. Niaz is certificated and licensed with the American Board of Family Medicine, and GA State Medical License. Her mission is to provide exceptional customer service while improving their patients' quality of life by delivering quality healthcare through routine comprehensive health maintenance as well as acute and chronic disease management.
Services
Hillandale Primary Care delivers acute and chronic healthcare to patients of all ages. They are passionate about preventive medicine and encourage each of their patients to take an active role in maintaining overall health and wellbeing. They treat patients with the scope of primary care in these areas:
Allergy Testing
Cold and Flu Symptoms
Depression
Diabetes
EKG
Early Cancer Detection
Geriatric Care
Gout
GYN and Women's Health
Hypertension (High Blood Pressure)
Laser Hair Removal
Osteoporosis
Pediatric Care
Physical Exams and School / Sports Physicals
Skin Issues
Thyroid Issues
Vaccinations
Whole Family Care
Well-Woman Exams
Hillandale Primary Care has made convenient arrangements with other diagnostic facilities for services that are not available in their offices, such as Bone Density Scans, CTs, MRIs, and mammograms.
Locations and Hours
Hillandale Primary Care has two convenient locations in Lawrenceville and Lithonia to help better serve you and your family. You can call to schedule your visit with our friendly staff.
Here are the addresses and hours of the two locations:
Lithonia Office
2523 Panola Road
Lithonia, GA 30058
Monday and Tuesday: 7:30 am – 4:00pm
Wednesday: 7:30 am – 7:00pm
Thursday: 7:30 am – 4:00pm
Friday: 7:30am -4:00pm
Saturday: 8:30am -1:00 pm
Lawrenceville Office
1950 Riverside Parkway, Suite 100
Lawrenceville, GA 30043
Monday – Wednesday: 7:30am-4:00 pm
Thursday: 11:30am -7:00 pm
Friday: 7:30am-2:00pm
Saturday: 8:30pm-1:00pm
Hooked Marketing's Efforts
At Hooked Marketing, we take pride in working with businesses that make a difference, like Hillandale Primary Care. We have assisted this client with:
Check out their website and Facebook.
Contact Hooked Marketing to help you get more clients and visibility for your business. If you haven't entered into the website blog arena, or you do not have time to write and post consistently to get good results, give us a call at 727-333-5270 to discuss how we can help you.
Hooked Marketing is based in beautiful Florida just north of Clearwater & Tampa Bay in Palm Harbor. Specializing in marketing, more specifically Organic SEO, AdWords Management, and Website Design. When hiring a local marketing team, you look for experience. Hooked Marketing has experience acquired from hundreds of web designs and marketing campaigns managed over the past 14+ years. Need help setting up a website for your business? Contact us today to get started.