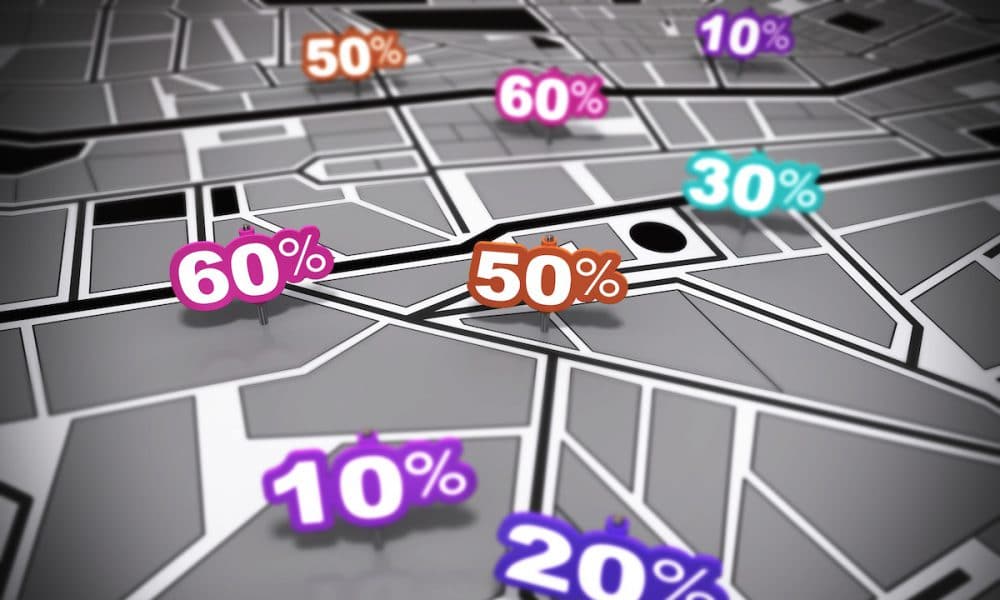 Mobile phones and web browsers give businesses a ton of location data to make marketing decisions with:
Geomarketing uses that data from mobile phones and web browsers to help consumers make buying decisions.
What is Geomarketing?
Optinmonster.com defines Geomarketing as "integrating geographical data into marketing to deliver marketing messages related to your target audience's location. Geomarketing can include:
Geotargeting, which is showing content to visitors based on their location, region, country, state, zip code, or other positional data.
Geofencing, which means using GPS data to target messaging to users only within a particular location or area.
While mobile and web users may report their location as part of interacting with a company's site, locations can also be detected by GPS, IP address, or even cell phone towers".
"By textbook definition, geotargeting is the practice of delivering content to a user based on his or her geographic location. This can be done on the city or zip code level via IP address or device ID, or on a more granular level through GPS signals, geo-fencing, and more. Marketers geotarget users on their always-present mobile devices because each person's location has something to say about their environment and their mindset at a given time — which makes it easier to deliver relevant ad content. The idea is that the more relevant an ad or offer is, the more likely it is to drive what the marketer wants: a sale. The central idea behind geotargeting is that understanding a consumers real-time — or past —location helps marketers achieve the holy grail of delivering the "right message at the right time," explains Geomarketing.com.
Marketing professionals know that Geo-marketing is not a short-term marketing strategy, nor is it a campaign just by itself. It is used to determine strategies and create campaigns.
Need a real location
"Geomarketing can be particularly useful to social media marketers if you are a business with a real location, as opposed to a business based solely online. For most businesses, geomarketing involves a teaser deal that attracts residents or out-of-town visitors who "check in" online or with a mobile device when they arrive at the establishment. This concept is particularly attractive for events, tourist sites, restaurants, and entertainment venues. Almost all these services notify their subscribers by text message or on their mobile sites whenever an offer is available nearby. Each service operates a little differently, with some offering virtual badges as a reward, while others offer special discounts to repeat customers (those who check in most often) or first-timers," explains Dummies.com.
Benefits
In addition to being popular, Dummies.com describes that:
Most geomarketing services work on multiple smartphone, tablet, and laptop platforms, so end-user device limitations aren't a concern.
The rapid growth in mobile marketing will accelerate the use of geomarketing.
The audience for geomarketing skews heavily to young men, who also happen to be the early adopters of mobile technology. Only 22 percent of users are female; and of the men, 44 percent are 18–29 years old. If your product or service fits this demographic base well, B2C geomarketing might be up your alley.
Some businesses may see only limited benefits, but the cost is also minimal. Unlike group coupons, these offers are generally inexpensive, so merchants face no significant losses.
Inbound links from services like foursquare can improve ranking in search results.
Hospitality businesses, entertainment venues, and restaurants can create geomarketing offers for "slow" times of day or off-season occupancy. This approach can turn down-times into profitable opportunities.
How to Use Geomarketing As a Small Business?
As IBIS Studio explains "there are several ways that you can use geomarketing even if you're not a very large company, including local SEO trends and searches, Google AdWords, and social media. Here are some things you can do to take advantage of these tools:
Local SEO Trends
To ensure the best possible ranking for your website in the local area you need to tell Google your most up-to-date information, including the location, opening hours, and business types. You should also claim your business page and list your name, address, and phone number on every page of the website.
Google AdWords
Local SEO trends will help you get organic rankings for your website, but AdWords can be used to acquire customers through paid searches. Google AdWords can bring additional customers every day, making it worth investigating at the very least. Always assume that your competition is using Google AdWords, because they likely are.
Social Media
Nearly everyone uses social media in some way. Businesses, clients, customers, everyone has either a Facebook or a Twitter account they use, even if rarely. Using social media to get followers, likes, and favorites is a good way to generate free marketing. Share what is happening with your business and the latest news to generate interest".
If you want to discuss geomarketing for your firm, give Jeff Smith a call at 727-333-5270?
Contact Hooked Marketing to help you get more clients and visibility for your business. If you haven't entered into the website blog arena, or you do not have time to write and post consistently to get good results, give us a call at 727-333-5270 to discuss how we can help you.
Hooked Marketing is based in beautiful Florida just north of Clearwater & Tampa Bay in Palm Harbor. Specializing in marketing, more specifically Organic SEO, AdWords Management and Website Design. When hiring a local marketing team, you look for experience. Hooked Marketing has experience acquired from hundreds of web designs and marketing campaigns managed over the past 14+ years. Need help setting up a website for your business? Contact us today to get started.